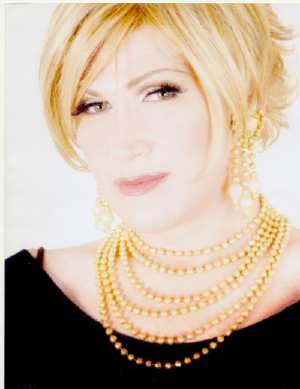 2006
Drag persona of Chuck Gillis, RIP. Chuck & Lulu were intertwined; see Chuck's page for more about the man: ChuckGillis.
By Cam MacLeod?
I remember the first night we went to LuLu's show. It was a cold, damp Thursday and we had heard we should head out to our favourite bar at the time, ClubVortex. There was this talent show thing that was a fun time. Several friends were there, and this would come to be the most reliable way to find friends to hang out with on any given Thursday.
First, some slight trouble with the microphone switch. "Hello?" (tap tap) "Hello?" (tap tap tap) "HelloooOOOHMYGOD !HELLOOOOO!!!"
Five Minutes of Fame with LuLu LaRude had only been going for two weeks so far, and was already hitting its stride. Anyone could sign up to perform whatever they wanted, however they wanted, for their so-called "five minutes of fame." Now in a Halifax gay bar four years ago, "talent show" = "drag show". (Which is fine, said the author, envisioning letters to the editor from the amazingly talented and not at all intense Halifax crowd). But somehow this show was different. LuLu and her erstwhile foil and (ahem) straight man Sandy gathered performers of all stripes and forms. The first show, if I recall correctly, had two drag queens, along with a folk-singing guitarist, a country-rock blaring regional sensation, and a physical comedy sketch to boot.
After each five minutes -- which when truth be told ranged from 49 seconds to 6-7 minutes on occasion -- the judges would chime in. Judges were gathered from the crowd, and their role was not only to provide some scores but also to comment, Idol-style, on the performer's work. Catty, bitchy, flirty, confused -- and that was all just the first one! The judges also provided fodder for LuLu to express her opinion on the performer's work – or on her suspicion of who was sleeping with whom that night.
Anyone who ever attended Five Minutes of Fame knows that the first marks were for (yell this part out loud) "TECHNICAL MERIT!"
The second set of marks was for Autistic Impression. That's not a typo. LuLu even had a little hand-seizure and funny face to go with it. Politically correct she was not. In later weeks, then months, then years of watching Five Minutes of Fame, probably one of my favourite sights was the looks on the new audience members' faces when they heard that for the first time.
Based on the scores from the first round, three performers would be invited to the second round. They could perform another number, which some actually had to frantically pick out, so convinced were they that wouldn't get that far. LuLu always had encouragement for new performers and people that were breaking out of their shell, but for her, words of encouragement might be something like, "did you see that shoelace she calls a dress?! God love 'er!"
Not that LuLu herself couldn't find the most stunning outfits to sparkle in. Her favoured way to describe an outfit included the likelihood of a button firing off it and blinding someone in the audience.
We always sat well back just in case.
I moved away from Halifax over two years ago, but Five Minutes of Fame is the one thing I couldn't miss if my visit included a Thursday. It changed locations, upped the prize money, LuLu even tried to quit last summer -- she loved the dramatic events. She left in a blaze of love from her friends and family too.
LuLu's alter ego Chuck Gillis died after a long illness February 8, 2007. An audience regular said it best: "What a bright light in our lives, even those of us who only saw it in glimpses."
LuLu's final blog entry finished off as follows: "I will be back soon, till then much love and thanks for the Love, dont know what i would do with yu". Located at www.lulularude.com, the entry quickly became a place to leave your respects for Chuck and his husband Billy.
How we'll remember her best: "Wig out!"
---
YouTube video added November 16, 2006: Some of Halifax's finest Drag Queens per Some of Halifax's finest Drag Queens perform with Lulu LaRude at her 25th Drag Anniversary. Featured Queens: KatyaWakinoff, FarrahMoan, LickitySplit?, EurekaLove, LinaCoke and LucyLovecock?. http://www.youtube.com/watch?v=hQwasGMFglw
---
In the 1990s and 2000s, when you thought of drag in Halifax, you thought of LuLu LaRude?. She was an exceptional hostess and performer both: one of the very few that had class and comedy in the forefront. She starred in her own weekly show, Thursday nights at Reflections Cabaret. The show 'FiveMinutesOfFame with Lulu LaRude?' was a big hit packing the club week after week. Lulu hosted many shows in Halifax in the past including the PrideFestival Pride Day Waterfront Show, PrideAmbassador Contest, MzGayHalifax (which she created), DragIdolAtlantic and other events. She also appeared at the Loud and Queer Festival in Edmonton and the Edmonton Comedy Festival, a city where she was once Empress. She's amazingly funny! Always has fun and there is never a dull moment when you're with !Lulu! We love you.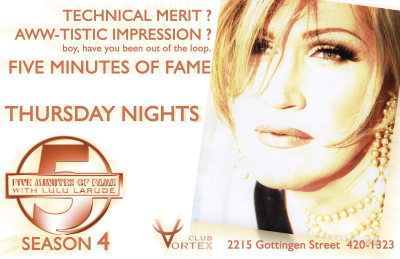 NatasshaNlott writes: Lulu, I don't need to tell you that you are flawless appearance wise because you know that. Definitely perfect example of quality make-up. Your comedy numbers are a riot. Props for being the only other queen in the city that does a yodelling number.
Dear Lulu, you are truely a lady in every sense of the word. I saw you for the first time this summer when I was visiting your fair town. I am going to be attempting drag this Halloween for the first time. I hope and aspire to be like you. You are up there like Ms. Vita Bohem or Dolly Levi. Thank you for the inspiration.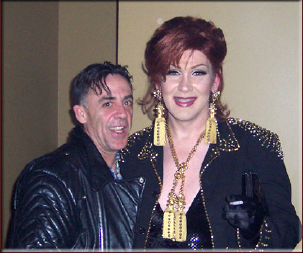 BlaineLinden & Lulu, 2004
AnitaMann writes: Lulu, you have supported me, pushed me to be better and have always gave me advice when I asked for it. You taught me a few of your perfect make up tricks and have helped me grow. Thank you for that. Hopefully other queens who read this message will also realize that in order to get better, see Ms. Lulu. She is a set of encyclopedias full of great advice and knows what she is talking about. Anyways Girly, Love ya. Anita
JuicyFruit writes: LuLu girl...what can I say. You have been there for me no matter what it be...bois, pageants, etc. And for that I thank you.
2006-03-27
Hi LuLu Gina& Cherie are here in Toronto for Pride things are going great here.we can't wait to get home though people are so rude here.they don't talk say thank you after you buy something in stores. some of these drag queens here need to get a good shave if there going to do Drag here.lot of ugly ones here..i have not seen the best Drag Queens yet at all..maybe during the parade maybe so..talk soon GINA out
Art Berry writes> Merry Christmas to you and yours and all the best of luck in 2007
IvannaRamyah writes: Lulu was a great person performer and friend may your soul find peace
2007-02-08: Goodbye Lulu, We'll Miss You!
After a battle with brain cancer, Chuck Gillis - known and loved in the city of Halifax as drag performer and "5 minutes of Fame" host; Lulu Larude passed away on the morning of February 8th, 2007. I thnk I speak for the community as a whole when I wish the deepest condolences to Chuck's family and loved ones. He & Lulu will be painfully missed.
Taken from Lulu's blog comments
Dear Everyone, I was just contacted by Mz. Vicki of Lulu's passing. I am so sadden by this news as Lulu (Chuck) demonstrated such love, compassion, and courage to the community here in Halifax and to everone.
Your laugh, your poise and grace has made us all better people for knowing you. Thank you for sharing your talents and being a friend.
Dawn Sloane Councillor District 12 Halifax- Downtown
2007-02-09: Chronicle Herald
Click here for a scan of the article (800K) ... and here for a scan of Chuck's obituary.
More Comments
lulu, i know your not suffering anymore i just wanted to say to hear of your death shocked me to no end ,you will always be remembered by all you were always so cheery and happy you would never know there was an illness ,you gave us all inspiration and the need to continue performing, i just know your in heaven now entertaining as on earth, lulu i will deeply miss you.
and to the family and life partner billy & pricilla love my deepest and sincere sympathy
shania mz n.r.g. 2002
---
From Lulu's friend Don McParlan in Edmonton: My parter Bob Mills (AIDS activist) and l enjoyed many a show of Lulu's in Edmonton. Bob travelled in 02 to Halfax for a AIDS function and ran into Lulu. Boy, those girls had a wonderful time and Bob never stopped talking about Lulu's performances (still got it) and was so happy to have run into him. My Bob enjoyed the east coast and the hospitallity given him. May Lulu and Bob meet up for a "shooter or two" and smile down on us; giving us all the love and strength to carry on. Lulu's partner and l must connect up for reflections, when l attend the 2007 Gay Pride in July.
Best Regards
---
I remember when LuLu Did my makeup for a Pageant in 2001.. She said that i looked like A movie Star Named VERONICA LAKE...I will never forget what she did for me..Learning from the BEST DRAG QUEEN..Known to me..Teaching me to be the best that i can be.And as for that..I won the 2002 QUEEN OF HEARTS PAGEANT the next year..Now you are in Heaven looking down on everyone.And in our DREAMS..Will never Forget You..GG-GINA GIBB-GG