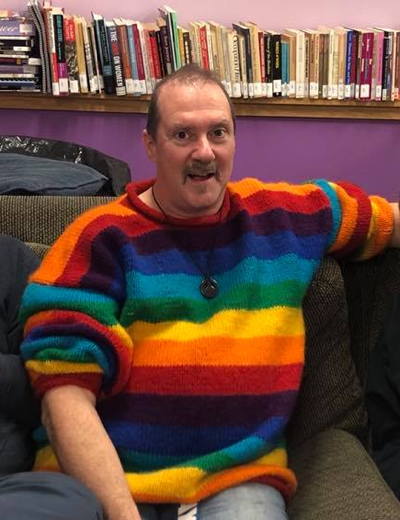 2018-02
Fag-about-town since about 1983, one of the GayBears. I was chair of the PrideCommittee for three years and was on the committee for a decade, and have been with WayvesMagazine since the mid-80s. I helped build the inside of Rumours on Granville Street when I first came to Halifax, and have done some activism but it's not really my thing. Friend-of but not a card carrying member of (all of these are defunkt - maybe there's a message here) BluenoseBears, MacLeather, and SafeHarbourChurch. Card-carrying member of TightRope.
Main home page: http://bonmot.ca/~daniel/
Used to be a:
You won't find me advertising in the ClassifiedAds or at SeaDogsSauna (except I did write the review after LilBear and I visited on opening day) or using any of the other ways of MeetingPeople because I have sufficient men in my life at the moment.
Here's DeniseHolliday interviewing KevinKindred about Dan getting the 2008 NSRAP Community Hero Award:interview here.
In 2012 Dan was the Halifax Pride Parade Honourary Marshall.
Current Projects
Back Burner
ArchivesDatabase: stalled out due to lack of involved people
A WayvesMagazineIndex? including advertisers and article authors for the history of the magazine
Write about my experiences at JimDeYoung's place in the early '80s. There's a very good short version of it on an Apple // disk IIS.90.1 that starts with, "The queerest thing? That's easy: When I first came out, the first gay person I met was Jim, "Mother" to his friends. For a couple of indistinct months, I spent all my free time in his apartment. For that time I had no trouble with the concept of a distinctly "gay lifestyle."
Contact