October 2023 Q Halifax Walking Tour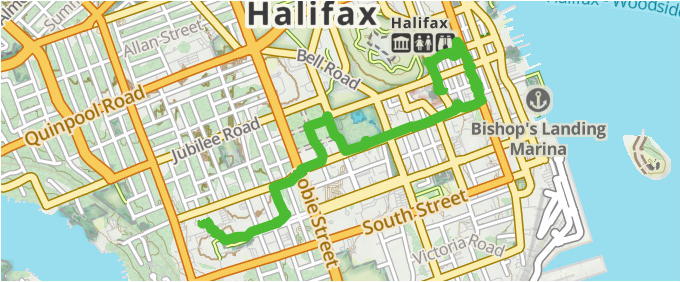 ---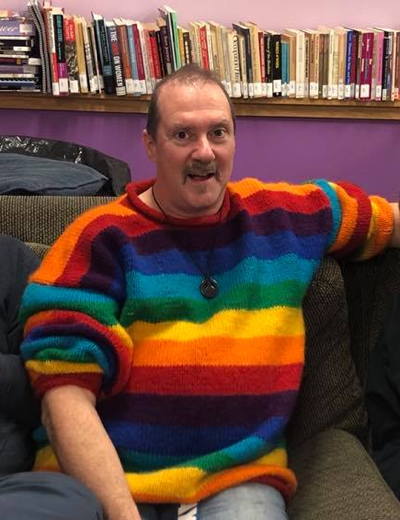 Facts
Your host: DanielMacKay
Date: Sunday October 15, 2023
Gather at 10:15; we'll leave at 10:30, Cambridge Suites lobby
Walk length: 4 km, about 2.5 hours
Finish: King's Quad
Head count: 25 ?? give or take.
Sources:
Brunswick & Sackville
Land Acknowledgement
Mi'kmag word for the harbour, Jipugtug / K'jipuktuk, "Great Harbour" anglicized to Chebucto, you'll see the word in a variety of places.
I've had several Mi'kmag partners and have spent a bit of time on reserves; you very often get tested there with the question, "Do you have a little indian in you?" The standard answer, which identifies you as one kind of ally, is, "My great-great-great-grandmother was a Cherokee princess." But not for me...
Introduction to me: I don't expect you to believe this, but my literary education was done by an extremely rural enclave of lesbians -- anthropologists of the indigenous people here, the Mi'kmag, art and folklore book authors and publishers and artists. I can tell you about it over a beer some time.
I moved to Halifax about 45 years ago and through a sequence of salacious accidents, got very very connected to the gay community here, very quickly.
About 40 years ago I started publishing Wayves Magazine,
23 years ago I started dumping local LGBT info into the Halifax Rainbow Encylopedia; it's now at three quarters of a million words and 2200 pages.
I ran Pride for three years,
et cetera - you can read about me on my page.
The harbour's first human use was of course by the Mi'kmag people probably starting 4000 years ago; they were were semi nomadic and spent the summers near the shores and winters inland where big game was abundant and have a really beautiful language - Algonquian family, verb centered. So "red" is not an adjective, it's a verb, "Being red." And, nouns and pronouns aren't gendered, they're animate or inanimate.
The first europeans here were in the 1500s - fishermen and traders; French settlers ("Acadians" - now my partner) starting in the 1600s; 1700s there were many battles between the Acadians and Mi'kmag and British including boats landing here loaded with typhus and typhoid and between that and the battles, the Mi'kmag population was decimated..
So here we are at Citadel Hill - historic settler cruising area for 270 years. It should be a national monument! We have a record of soldiers arrested for Sodomical Practices in 1752.
Citadel Hill - photo op / stop;
How The Hill was used, how it's used now.
The Palace - 1979 - 2013. Guys "taking a shortcut" after not getting lucky there.
So this is a Navy town - Rum, Buggery and The Lash are to be expected, practically required.
That being said, we have had our share of the great Canadian queer witch hunt, now called The Purge. As a young person I heard that there was a Lesbian Ring in the air force base near my home and my imagination went a bit wild - not in the way you expect! I thought it was a dessert.
I'll be mentioning a lot of cruising areas today.
Although Pierre Trudeau asserted in 1969 that the state has no business in the bedrooms of the nation, there are many reasons why men who desired sex with men would not do that; they may have been married, they may not have been out and couldn't out themselves to roomates, neighbors, family etc; or - if they were military members or associated with one - they could be being watched by the military.
We have a Nova Scotian who literally wrote the book on this as well - GaryKinsman.
AIDS Educator JJ Lyon: We at the AidsCoalition needed to reach men who had sex with men, and so many of those are not connected in any way with the community. So I wanted to make a TV ad, of driving around The Hill, because that's all that most of the MSMs in Halifax were familiar with.
He didn't get his TV ad.
More at Brunswick & Sackville
"The Village" 1km north:
Rumours - second incarnation (we'll walk by the first one later)
the city's *second* bath house 2003 - ca. 2020
RaymondTaavel's murder
Bus Stop Theatre, a hundred seat theatre with lots of Q programming
Marshalling area for Pride Parades
Morton House, an AIDS hospice created astonishingly quickly in 1988
East Corner of the commons: MargotDurling's "Chosen Family" sculpture on the far side of The Commons
Down Sackville Street. Through the Convention Center.
Argyle St
The Carleton, built in 1760 as a private home, a century later converted to a hotel, then a century later to restaurant and bar.
Back that way is Pizza Corner, which if you are in Halifax and haven't had a donair, you should try. They are not in any way like doner kebabs although they look similar.
The JuryRoom. In 1977 they decided to exclude the "undesirable" people. Like all oppression of our community, this was a catalyzing moment - I'll tell you about an earlier one, later.
Grand Parade
St Paul's:
oldest Protestant church in Canada
oldest building in Halifax, opened 2 September 1750
first Anglican cathedral outside of Great Britain.
City Hall: working with Pride over the years, demonstrations, Pride Flag Raisings are here, like everywhere.
I don't want to take a LOT of credit for it but... it really seemed like Halifax City woke up after I did a talk about Richard Florida's theory that a city's desirability is directly driven by its diversity.
And, I have a story about that. In 2021 I had a big reno project in my house, paid for by insurance. They insisted I move out during it to a B'n'B whole flat rental. The one I picked I notice the hosts were listed as two women. After we talked a bit one of them said, "Are you the Wayves Daniel MacKay??" They had been tourists here 20 years ago, had walked into Venus Envy, had seen Wayves and said, "Any city that has this shop and this magazine, must be great for queer folk."
You might notice a *slight* focus on churchy stuff on this tour. I used to fight homophobia in churches but about .... 30 years ago I switched. I now fight church-phobia in the queer community which is MUCH more prevalent -- for some good reasons and some silly ones.
Venus Envy Are any of you Americans? The word "bookstore" has a totally different connotation. Our current Q book and toy store. It's super classy - here are some bookmarks. They also are actively support the Q community in a variety of ways
Barrington St: Paramount canopy
A single dance held here in January 1976. Eight months later members of GAE signed a lease for the space.
What did the community owning the bar mean?
As it was community owned it was quite beloved.
Staged The Night They Raided Truxx
Story: Me, 45 years ago, walking up and down Barrington and seeing the lights there, knowing it was a Q space and knowing the people there were having fun - and watching people going in and coming out.
Now being turned into the arts center; the city gave it to The Turret Arts Space Society; it is mid renovation.
opened as more or less a gay bar in 1996; extremely popular;
one year later chunks of the the ReflectionsHellsAngels story began to emerge.
Book: The Road To Hell: - members murdered, a spy supplies shop, witnesses having accidents and suicides in their jail cells, gay bikers.
After we had to leave The Turret building, Rumours, down one street. Left / progressive bookstore.
Question: "Commie, Pinko, Fag."
Red Herring Bookstore Again this is not an American "bookstore." This was a store that sold serious books and magazines, not pornography. They were constantly, valiantly in battle with Canada Customs
GayLine - created very shortly after the organization in 1972. also funded by GAE and and then funded by bars for many years after, finally ending in 1996.
Our very own StonewallTavern
GreenLantern Building: for a few years during the 1970s, this was an almost entirely queer buildiing: "Club 777", the first gay bar. We have quotes from people saying it opened further north on Barrington on New Years Eve 1970. It was on the top floor, gay bookstore below that, and Q folk "camping" in office suites in between. And the venue for early GAE meetings, and the GayLine.
Just beyond the Apollo
Apollo Bath building
Built in 1911 as Halifax's YMCA
1972 - 74 it was a str8 sauna, then became a gay sauna
closed in 2005; by that time the one in "The Village" had opened.
Stop: above Barrington & Spring Garden
fall of 1882
"The Decorative Arts" and "The House Beautiful"
at the Academy of Music, built in 1877, seating for 1250; it was rechristened as a movie theatre after WW I and then torn down and rebuilt in 1929 as the Capitol Theatre, and finally in 1974, again torn down and the Maritime Center.
Forrest House, a Women's Place, one of two women's centers which was used for lesbian organizing. In the late 1970s many women felt that they weren't being represented well at the community owned bar.
We had another women's center
Mens' and womens' use of the bar is very different
Many women wanted to focus on more traditional womens' issue - abortion, rape, employment equity, women in politics, math, cars etc; so there were kind of two tracks in that group
The lesbian representation was not always comfortable.
Unitarian Universalist Church - minutes welcoming Q folk in for meetings 51 years ago - at a time when most churches didn't consider us even human.
Walk up the N side of Spring Garden Road to the
Old Library grounds
Refreshment break - possibility of a bathroom break in about 10 minutes.
City Library
2021: Pride vs Library conflict over transphobic book: Irreversible Damage: The Transgender Craze Seducing our Daughters
Library CEO

quote 1: "If we removed every book that offended someone, our shelves would be empty."
quote 2: "We have something to offend everyone."

This in the long term turning into a good thing - but not a dialog
Pride Month 2023 was... spectacular.
Pushback against homophobia: quote from a manager there: "For every complaint, we add an event"
While doing some archiving work I found a 1978 pamphlet published by the library, "Same Sex: Some Books on Homosexuality" 1978
Where we're standing was the burying ground for the city poor house; there are ... probably about 20,000 people buried here and there and there.
Walk up
Spring Garden
TheHeidelberg - gay hangout mid-late 1970s. When a couple of local (would become) activists were kicked out for dancing together, things started to gel up to have our own bar.XXX
The short lived LeCruz
A variety of coffee shops
AIDS Coalition - from two organizations, a Persons With AIDS group and a government group, forced merger which has worked out pretty well. *Wayves Magazine layout, talk about Wayves: about 30 years on paper; about 300 issues; 2.5 million words on paper, another quarter of a million online since.
The Triangle: Queen Street, Dresden Row & Spring Garden
Public Gardens
Through the Public Gardens because it's pretty
Photo Op at gate
Oldest Victorian garden in North America, built about 1867, as old as Confederation
Bathroom Stop
Stop: halfway through Public Gardens: CBC Picket, again in 1977, protesting not broadcasting LGBT public service announcements. The community did a small picket of the CBC - pic on that page -- and The Dalhousie Gazette organized a nationwide boycott; this was a brave thing because CBC ads were a very good source of revenue for the impoverished university presses, but they gave it up for gay/lesbian rights. It took years for the CBC to come around.
Through Camp Hill Cemetery
Alexander Keith - moved to Halifax 1817 as a brewer, became senior manager of the Bank of Nova Scotia, and other financial institutions in 1837, mayor in the 1840s & 50s. And was a Freemason.
William Young, first chief justice of Nova Scotia, 1860
notorious outdoor cruising area, now closed in the evenings after the 1988-11-05 Murder.
To Glitter Bean Café - 2018, owner fucked over suppliers and employees, and it was taken over as a co-op, mostly of trans folks.
Manna For Health fundraising dinners
maybe have Shaun come out and talk about the project
Big Q "Community Center" conference on the 23rd
S to University Avenue
University Ave
Law School, friend and very out prof, Dr John Yogis, book: "Sexual Orientation and Canadian Law"
Nova Scotia Public Archives
Arts Centre: triumph of a beautiful building over practicality. Performance space on the roof.
At The Dal Student Union Building
is where the Gazette was published out of, that supported the action against the CBC in 1977.
Student radio station, CKDU, which has had queer programming ... since the 1980s anyway
Who has NOT participated in Rocky Horror Picture Show? Still does interactive Rocky Horror Picture Show once a year, which if Hallowe'en is our High Holidays, RHPS is our main ritual
Killam Library
I studied and worked there for 22 years
Sexual Health & Gender Lab
Through the Dal Quad, turn R after the MacDonald? Building
Built in 1914, designed by a Toronto architect AND Andrew Cobb as the library
Added onto over the years including the largest collection of Kipling books
When I was there, it was the MacDonald? Science Library
Cast iron stacks independent of the floors
Chase Building
Also designed by Andrew Cobb
First provincial archives in Canada to have its own building
When I was at Dalhousie in the 1980s this was the Math & Stats building, so I spent lots of time here.
Kings
I lived there, and there.
very LGBT "open" in a time when that was unusual.
sluffing in your housecoat from your room to Prince Hall for breakfast on Saturday, and gossipping about who slept with whom... and there was nothing unsual about that to include the gays and one very promiscuous, impossibly handsome bi guy.
President: John Godfrey at the time. I did go to his bedroom - for him to show me a rare quilt. I was disappointed. Since then he was the editor of the Financial Post and a Liberal MP and a minister.
Wayne Hankey: retired in 2015
Everyone knew he was unpleasantly sexually aggressive, predatory and abusive. But, that wasn't unusual at the time. He was also unpleasantly misogynistic. But, everyone agreed, brilliant and very very good at getting massive grants for the university.
Charged in 2021 of an offence in 1988, and later for incidents between 1977 and 1979.
Died in 2022, a month before his trial was scheduled.
So - in 1981 I moved here from rural, redneck, hateful, homophobic rural town to this - an oasis, a paradise where being gay was OK. And you're here now. Enjoy.
This page is in ToursCategory?