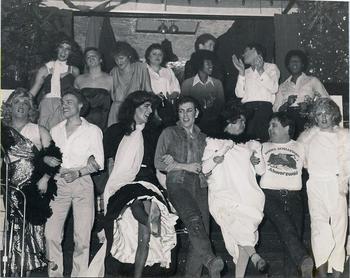 Christmas In July
Why not!! It was hotter than normal that July, high humidity and lots of sun, "a sun worshipper's delight". The Turret Staff busied themselves decorating the club with Christmas decorations for another Sunday show with all the Christmas trimmings (turkey, stuffing, cranberries etc) and yet another show was organized all done to Xmas tunes.
Belinda Tucker (Turret Staff) and I went out to her family's tree lot and got a 12' high tree (It was also Natal Day). I was playing Santa that year and the suit was lined for the cold; I damn near boiled my skin off. Anyways, on the way back from getting the tree. Belinda and I got the bright idea too drive across the Garrison Grounds on the side of Citadel Hill with the big tree tied to the top of her little car and I donned the Santa suit and sat atop the tree as she drove thru. It was kids afternoon concert and when all those kiddies saw Santa Clause; there was a wave of kids screaming ("SANTA!!!")That tumbled and roared down the side of the hill towards the car. Seeing this we decided it was time to leave and Belinda turned the car towards the gate. We drove as fast as we could out of the sight and around the corner from some really disappointed children.
The tree was put up and decorated by all the staff and volunteers (it was spectacular.) The Turret was packed for the show. This was one of the first shows with Randy Kennedy (SaraLee)
A Round Of Applause Please!
I have to say that I miss doing the shows, as they were inspiring for many reasons. If it were not for the cooperation of The Turret staff and all the many volunteers over the years they would not have been the "EVENTS" that they were.
We all worked hard and we had many arguments and disagreements on the way things should have been done and were done. These shows were some of the most professional that I have been a part of and I have seen and been involved in many amateur and professional stage productions. To those of you who are reading this, who were a part of our times as a volunteer, a staff member or a performer. I will say in someone else's words: WE LAUGHED, WE CRIED, WE BECAME A PART OF IT and I add that we were and still are FAMILY.
Who Are We
Many of the people volunteering on the shows were also staff members and many were not.These are some that I can remember at the moment. If your name is left out, it is not intentional and as I reconstitute memories, names will be added. Or if you remember someone, send me an email at top040@hotmail.com and I will add. I am trying to use the persons given name for this list. In the event I cannot recall names, the stage name will be used and changed as I find it out.
Friends who have passed on to the next world are marked with a †.
TommyMiller†, Terry Despre†, Tim Hare, RandyKennedy, BillMacKinnon?, BarryHeath, Earl Hines, Scott Thompson, Jerry Grey, MarkHicks, Glen Hardy, JohnHurlbert, JimDeYoung, Brian Schofield, EmeraldGibson, JohnMarr, EttaGibson, DeneRoach, JoanneBond?, Belinda Tucker, Robert Wagner, ChrisShepherd, GaryWest†, PaulMunroe?, FredBerringer†, Andy Brookes†, Jerry States†, Travis Tynes†, Stephen Ambrose, John Hirtle, Trent Churchill, Pat Dingle, Tommy & George, Bob and his lover Earl†, Scott Lingly, FredWortman?†, George Leblanc, Don Tate, John Tate, Gloria Borden, BobBezanson, ClydeRichardson†, DavidMacmillan?, AnneFulton†, GlennWalton, Roger Stoddard, TerryMartin†, MarkNaven?†, Darrin Day, Kevin Simonds†, GeorgeRamsey, Michael Naugler†, Wayne Oldfield†, Peter Trask, Mark Robarts, Patrick Murphy, JoanneDrodge?, ThomDay, Glen Hardy.
---
Silence Of The Lambs
When shows were put on at the Turret Club or Rumours Club (during my tenure at least) performers were not allowed to be out in the audiance before or during the show, only being allowed to rush thru to go to the washroom or get a drink at the bar and most times the drinks were brought to the performer. There were a few exceptions to the rule, like myself as I was also director and stage manager and a few other things all wrapped up into one. Performers who made loud noises or talked loudly while another performer was on stage were chastised within an inch of their lives, barred from an upcoming show or not asked to perform again. This was a standard that we set right from the very first show, keeping performers away from the crowd set the illusion for the performance in the right path and performers that had a big mouth would just not be tolerated. Talking or yelling in the audiance by anyone is just plain rude and if the performance is not up to snuff...turf it, it only makes the rest that are doing their part look bad. This is how it was back then, we policed ourselves and it made us better.
---
Breakfast At Zellers
A lot of mornings after working all night, I would head across the street to Zellers for breakfast (Reflections Cabaret building). It was a 2 eggs and bacon, home fries and refillable coffee for 99 cents. On a lot of those mornings I would find myself sitting beside John Neville (artistic director of NeptuneTheatre), he was a quiet man who usually kept to himself but for some reason one morning we started to talk and we sort of became breakfast buddies. Some days we would just say hi and continue with breakfast (we seemed to know when one or the other just wanted to be quiet). At one breakfast meeting, I started telling him about the stage lights that I had just made for The Turret Club. His interest peaked and he wanted to hear more. I told him how I took apple juice tins and cut a hole in the bottom and inserted rubber outdoor light sockets. Then I cut wire coat hanger and used that as stays to hold them in place on a 2x4 and then painted it all flat black. Each light had a line going to a homemade panel box made out of plywood which I had inserted receptical boxes with rows of household dimmer switches, 1 dimmer for each light and a master dimmer for all. The final thing was to make corrugated cardboard squares and cut a hole in the center, just large enough so that it would clip over the lip of each can; between 2 peices of these I put color gels to add color to the stage. John was so excited by this, he said that this was what he and his friends did for stage lighting when he was a kid starting out. John dropped by one day to see the lights in action and you could see the excitement in his face as he took a walk down his memory lane. Zellers closed out a couple years later and became the Misty Moon. I never saw John after that, except maybe walking down the street once in a while. I was so proud that he acknowledged my work and I kind of miss Breakfast At Zellers.
---