Here are a few hangouts for the Q community in Halifax
Current
AlterEgosCafe? on Gottingen St.
GlitterBeanCafe - Q owned and run coffee shop
HoldFastCafe in Halifax's north end
Dilly Dally Coffee Café, 6100 Quinpool Rd
The Nook, 2118 Gottingen Street
Clubs
If you're over 55-ish, or enjoy spending time with people who are, you might want to join the ElderBerries
Historical
In the '60s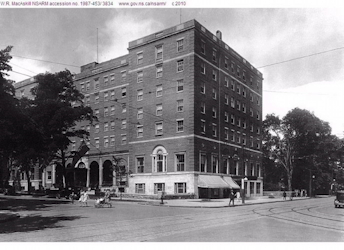 TheMeatRack / Lord Nelson Hotel ca. 1940
In the '70s
The DresdenArms
The Cameo or Candlelight Lounge -- the lounge part of the Cameo Restaurant on Spring Garden
The GAE crowd hung out in the coffee shop of the Lord Nelson Hotel beside the Public Gardens. We often went there after meetings.
The JuryRoom: popular hangout since at least 1969. In 1977 the management began barring g/l patrons. The community, led by GaeGala, demonstrated by holding sit-ins and picketing in May of that year. The Jury Room would continue to be contested ground well into the 1980s.
The Stockade near Windsor and Almon St... DanielMacKay says in 2002, "Where 'Nice Nights' Chinese Restaurant is, I think."
Alma's Restaurant, in the basement of the GreenLantern building
The LobsterTrap
ApolloBath from the 1970s to 2005.
In the 80s
In the 1990s
Starting about 1994, online IrcChannel until early 2006
In the 2000s
In the 2010s
these need dates
The info here should be merged with the historical part of GayBars.
Hanging out is one of many ways of MeetingPeople. This page is part of the HistoryProject.